The Patient Safety Company
TPSC provides for more than 10 years a substantial contribution to safer and better care. We do this by applying refreshing technologies and make them easily accessible available.
Challenges in health care
Health care processes are complex, are exposed to numerous risks and are subject to a growing number of laws and regulations. In addition, patients, their relatives, employees, inspection and insurance companies have high expectations. Image damage, claims, increased supervision, tightened supervision and increased premiums are due if the organization cannot meet here.
In order to prevent this process optimization requires continuous attention. The central recording of information, the securing of secondary processes, the measurement of process deviations, and the communication are around it of essential importance.
Our solution: TPSC Cloud ™
TPSC Cloud ™ facilitates this. Information about processes is collected, analyzed and improvement actions are initiated. These are incidents, complaints, audits and other health records.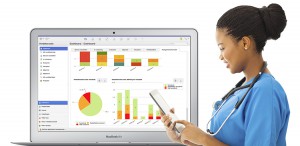 These are recorded by means of online forms. Based on the online form, a file is generated. The dossier is supplemented information, analyzed, monitored and made available to stakeholders. Real-time dashboards and reports provide insight into management information tailored to individual needs.
Care registrations provide valuable improvement actions. To improve care quality and safety structurally, these are recorded centrally and implemented through an established procedure.
Collaborative Governance, Risk & Compliance Software
This is all combined into TPSC Cloud ™, Collaborative Governance, Risk & Compliance software. The software is made available from the cloud, is modular and easy to integrate with other software applications. Due to this flexibility, organizations can quickly adapt to changes. In-house solutions are created that will meet new requirements.
Contact
www.patientsafety.com/nl
info@patientsafety.com
Tel: +31 (0) 72 8200 400